DIROMPENTI BOX
We selected the most iconic, unique and intriguing single-estate specialty coffees and gave them a whole new image. Now we have decided to bring them together in a box, to offer you a disruptive experience, courtesy of our Dirompente line!
Immerse yourself in quality artisanal coffee: taste them all and choose your favourite!
Content:
1 x 250g Buenos Aires
1x 250g Henrique's
1 x 250g San Pedro
1 x 250g Ulya
Box &
Kit
Abbiamo creato la linea Box & Kit per rendere ancora più semplice la scelta del giusto acquisto da fare: potrai acquistare diverse combinazioni di pacchi di caffè che abbiamo pensato per diverse occasioni. Potrai inoltre acquistare interi kit comprensivi dell'attrezzatura. Il nostro obiettivo è dichiarato: rendere più facile per te esplorare il mondo del caffè di qualità e delle estrazioni alternative all'espresso. Sei pronto?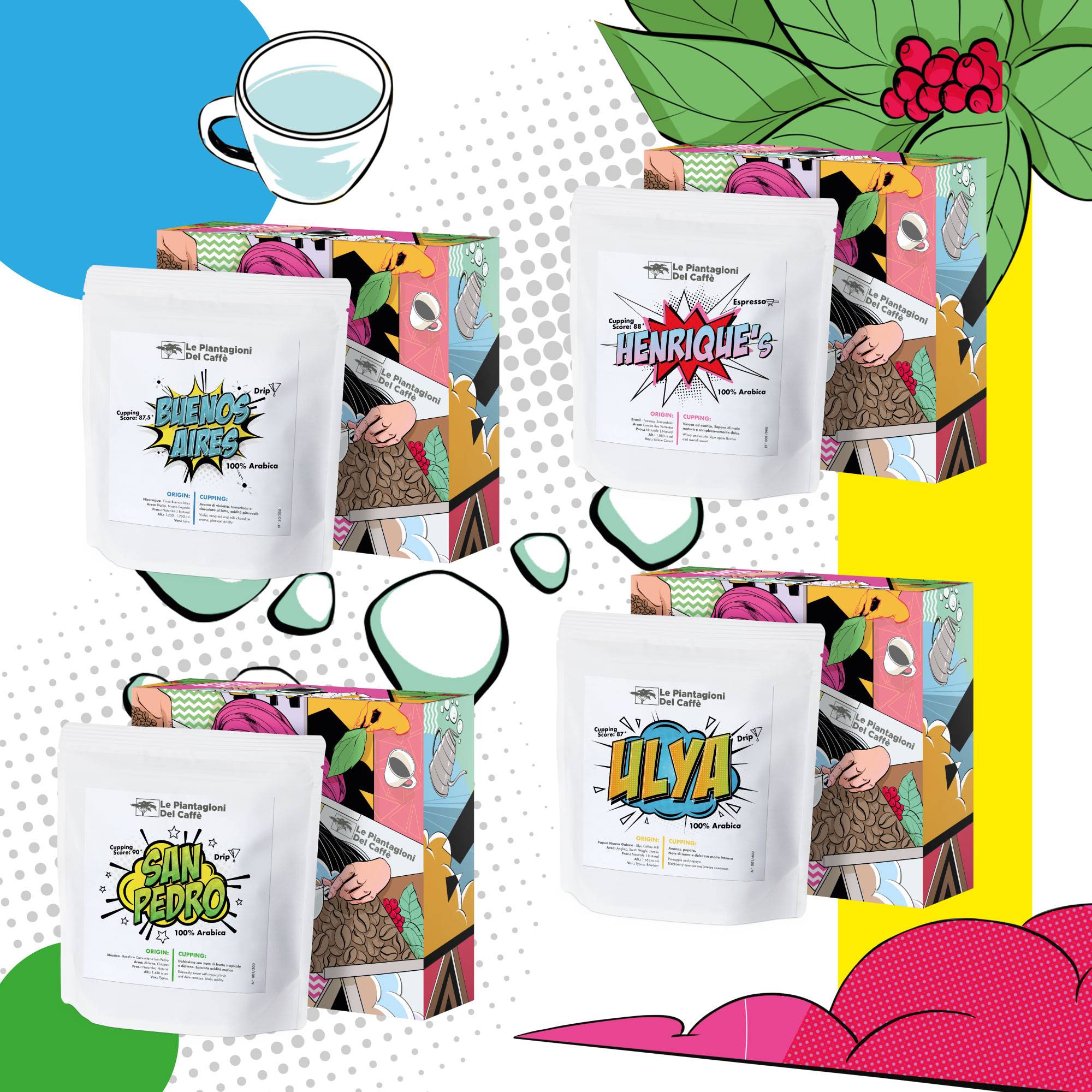 Where does this coffee come from?
Our blends and combinations are created using coffee from the same estates where we source the beans for our single-estate coffees.
This coffee comes from the following estates:
Choose how you want to extract this coffee and follow the guide!
Espresso
The coffee doses indicated below refer to a double shot extraction, that is, two espresso cups at the same time. Stay in the range that we recommend for each of our lines, have fun evaluating the differences in the extraction as the dose varies and let us know which dose produces the best extraction in your opinion!
01
WEIGH
Specialty People Blends: 15g - 16g Di Piantagione: 16g - 18g Dirompenti: 17g - 18g
02
GRIND
The consistency of the grind should be somewhere between white flour and cornmeal
03
GET SET UP
Place the ground coffee in the portafilter, level it and tamp it
04
ENJOY
Extract your espresso and enjoy – preferably in good company!
Filter
The extraction ratio we suggest here is not imperative: you can try to use different doses by reducing or slightly increasing the amount of coffee per liter of water. Try 55g of coffee for 1 liter of water and then 65g of coffee for one liter of water and let us know what differences you perceive in the taste of coffee.
01
WEIGH
Recommended extraction ratio: 60g coffee / liter of water
02
GRIND
The consistency of the grind should be similar to cornmeal
03
EXTRACT
Pour hot water (88-91°C) over the coffee in a circular motion, remembering to let it pre-infuse, and extract your filter coffee
04
ENJOY
Extract your filter coffee and enjoy – preferably in good company!